Bentley 4 ¼ Standard Steel Park Ward Body
A stunning example of a Derby built Bentley, with a fascinating history and unique blue colour. This vehicle was owned and driven by the world land and water speed record holder, Donald Campbell, hence the colour, Bluebird Blue. The body is the Standard Steel type, produced by Park Ward Coachbuilders.

About Bentley
WO Bentley was initially a vehicle importer, then a World War 1 aero engine designer. He established Bentley Motors in 1919. Following bankruptcy in 1931 Rolls Royce bought the company and retained WO. Some four years later he left and joined Lagonda where he is credited with the design of their V12 engine. Rolls Royce built Bentleys were developed as being tuned and lowered versions of the more staid and upright Rolls Royce products, mainly bought with those wanting more sporting potential.

Key Facts
Year of Manufacture
1937
Registration
DXU 2
Engine
4410cc straight six
Body
Standard Steel Type
Built by
Park Ward Coachbuilders
Location in Museum
Main hall, downstairs
Interesting Fact
Donald Campbell bought this Bentley in February 1949 at which point it was silver in colour having originally been black. At the time Donald gave his address as the Reigate Hill Hotel as it's believed he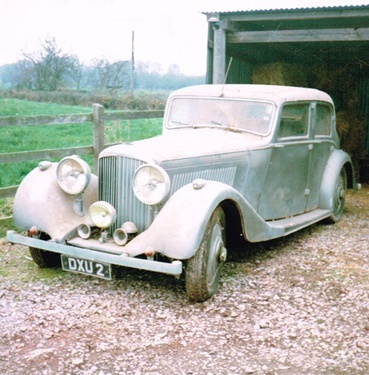 lived there whilst Bluebird K4 was undergoing alterations prior to an attempt on the record at Coniston in August 1949. Donald Campbell owned many cars during his lifetime, keeping this one for just under a year. Many of his vehicles were painted blue, and he had a personal St Christopher badge made, which is still in position on the dashboard. The next owner after Donald kept the vehicle for 37 years; it was then in storage for some years before the Museum purchased it. During its comprehensive restoration it was decided to paint the Bentley in Bluebird blue and an appropriate radiator mascot was fitted.
Share your memories
Do you have a story or memory of the Bentley 4 ¼ Standard Steel Park Ward Body exhibit? Share your photos / memories here
Share